Description
Geekvape Aegis Max 2 Kit100w
IVape welcomes in The Geekvape Aegis Max 2 Kit, a worthy successor of the first Aegis Max of Geekvape. This splendid model – also known as Max 100 – will make some admirers in the world of vape. It can not be otherwise in view of the extent of its capabilities: Geekvape Aegis Max 2 has supported accommodating 18650 batteries and 21700 batteries (Not Included), a maximum power of 100W, a capacity of 5.5 ml, and a TFT colour screen of 1.1″. All in all, a product not to be missed.
Geekvape's Aegis series has been known to produce great models and continues to do so with the Aegis Max 2 / Max 100, the successor to the Aegis Max. This electronic cigarette – made of stainless steel – allows a pleasant grip thanks to a handle with a comfortable coating for the palm and fingers. In addition, the presence of the main button and the adjustment buttons on the opposite side reinforce the quality of this grip.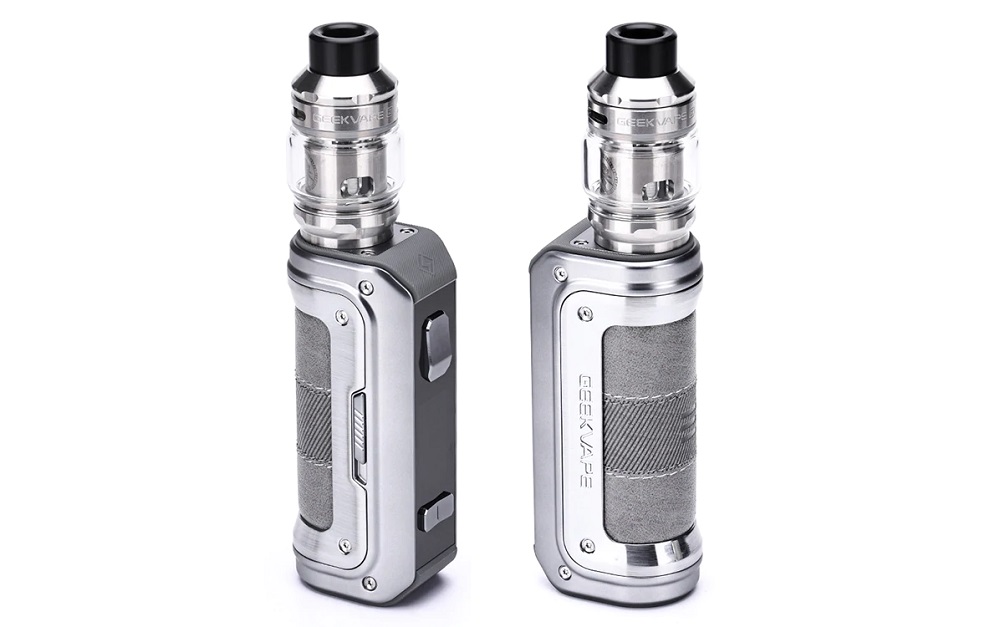 Secondly, Geekvape has given the device a sophisticated look, based on the elaborate lines typical of Aegis models. He also made it durable and able to withstand water, dust and shocks. The IP68 standard is there to certify it. Finally, Geekvape has fitted this kit with a side switch to block the buttons from being pressed unintentionally. This precaution prevents the mod or coils from overheating in case of unwanted activation.
As a result, the Aegis Max 2 is a sufficiently robust and protected model for safe transportation, made all the easier by the fact that the device has dimensions of 143.8 x 42.06 x 31.5 mm.
Breathtaking performance of The Aegis Max 2 Kit
Anyone who vapes with the Aegis Max 2 will be amazed at the performance it is capable of. This model is a technological marvel, an electronic cigarette whose capabilities go far.
For operation, this product requires a 21700 or 18650 battery (not included). An adapter is included in the kit for the 18650.
For recharging, a USB Type-C cable is supplied. It plugs into the USB port at the top of the box, under a cover, which makes recharging easier. However, it is preferable to use this cable only in case of emergency and to use an external charger in order to preserve the life expectancy of the battery.
About the power, it is variable and is able to reach a consequent maximum of 100W.
This Aegis Max 2 has a variable power between 5 and 100W, a variable voltage between 0 and 8.5V and a variable temperature between 100 and 315°C, i.e. between 200 and 600°F. As for the coils, the box accepts those whose value is between 0.1 and 3 ohms. Finally, a 1.1″ colour TFT screen – a large surface – communicates information that enables quality vaping. The nature of the interface makes it easy to access this information intuitively. Among this information, there is the remaining battery level, the power, the coil value or the number of puffs.
The Z Subohm 2021 as an atomizer
The Aegis Max 2 kit is the result of the combination of the box of the same name and the Z Subohm 2021 atomizer, one of the jewels in the crown of the Geekvape catalogue. And for good reason ! It fills from the top, is waterproof and offers a capacity of 5.5 ml thanks to its glass bulb. It is therefore possible to vapot serenely, without having to worry about the autonomy in e-liquid.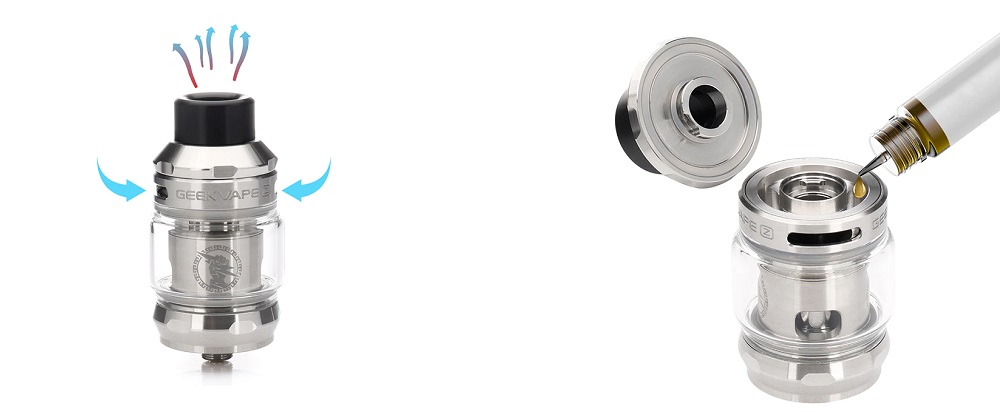 The airflow is adjustable and is located on the top. The perforation is enlarged for a strong airflow. As for the base, it has been revised compared to the first Aegis Max to achieve a better connection.
To close the chapter on this Z Subohm 2021 atomizer, let us point out that it is compatible with the coils of the Z series of Geekvape, namely :
The Z0,2 coil (70-80W)
The Z0,4 coil (60-70W)
Moreover, a Z coil of 0.2 ohm and another of 0.25 ohm are provided with this atomizer which, by the way, displays a remarkably designed pattern, a representation of a lightning held by a hand to symbolize the ardor. A nice touch for this excellent atomizer.
**Please purchase an external charger. If you use the usb port to charge and blow the chip your warranty is void according to Geekvape so please read your warranty card**
Quick Links:
Geek Vape Super Mesh Coils
Geek Vape ZEUS Coils
*21700 will come with 30t/40t battery*
GeekVape Aegis Max 2 Kit Features:
Dimension: 93*46.3*34mm
Material: Zinc-Aluminium Alloy Chassis Construction
Battery: Single High Amp 21700 / 18650 Battery (Not Included)High Amp 18650 Batteries – Not Included
Chipset: AS-100 Chipset
Wattage Output Range: 1W-100W
Resistance Range: 0.05ohm-3.0ohm
Temperature Range: 100°-315°C / 200°-600°F
Modes: VW Mode, VPC Mode, TC Mode, TCR Mode, Bypass Mode
Screen: OLED Display Screen
Protections: 10s Cut-Off/Short-Circuit/Over-Charging & Discharging/Over-Heat/Over-Current/Anti-Dry Protection
Thread: 510 Connection
Charging Port: MicroUSB Port
ZEUS Edition Includes:
1 Aegis Max 2 Mod (Batteries Not Included)
1 Geek Vape ZEUS Sub-Ohm Tank
1 0.4ohm Z1 Mesh Coil
1 0.2ohm Z2 Mesh Coil
1 Spare Glass Tube
1 Coil Tool
1 MicroUSB Cable
1 Promotion Card & Warranty Card
1 User Manual
Copyright 2020 © iVape Ltd
Advanced User Item. Use at Your Own Risk!NOTE: Descriptions, specifications, and claims are based on manufacturer information. The information listed and provided are to be used at the sole discretion of the consumer and is not representative of analysis, testing, and verification by iVape Ltd and any and all of iVape's parent and subsidiary companies. There is an inherent risk with the use of any and all rechargeable batteries in any circumstance. iVape and any and all of iVape's parent and subsidiary companies are not responsible for damage if there is any modification of the batteries/chargers in any form or shape (including pack making). iVape Ltd and any and all of iVape's parent and subsidiary companies are not responsible for any damage caused by the misuse and/or mishandling of Li-ion (Lithium-ion), LiPo (Lithium-ion Polymer), and any rechargeable batteries and chargers. Use special caution when working with Li-ion (Lithium-ion), LiPo (Lithium-ion Polymer), and any rechargeable cells, as they are very sensitive to charging characteristics and may explode or burn if mishandled. Make sure the user has enough knowledge of Li-Ion (Lithium-ion), LiPo (Lithium-ion Polymer), and any rechargeable cells in charging, discharging, assembly, and storage before use. Always charge in/on a fire-proof surface. Never leave charging batteries unattended. Do not use any rechargeable battery as well as any battery charger if any visible damage is present, as well as if the cell or charger has been stressed through mishandling, accidental or otherwise, even if damage may not be visible. Always store and transport rechargeable cells in a safe, non-conductive container in a controlled environment. Dispose of all battery cells and chargers in accordance to local laws and mandates.iVape ltd™ will not be held responsible or liable for any injury, damage, or defect, permanent or temporary that may be caused by the improper use of a Li-ion (Lithium-ion), LiPo (Lithium-ion Polymer), and any rechargeable battery/batteries. Please have a basic understanding of the batteries you are using and how to care for them properly. All pictures are based on practicality, copyright reserved.