Description
VooPoo MAAT Tank
iVape brings you The VooPoo MAAT Tank Ireland. Voopoo knows how to do it when it comes to aesthetics and the Maat atomizer is no exception to the rule. Its dimensions of 52 x 26 mm are satisfactory and make it an easily transportable atomizer. In addition, it is made of stainless steel and has Pyrex glass that can withstand extreme temperatures and corrosion. It is therefore made of 2 materials that ensure its robustness. This Tank would be paied extremely well on The Argus XT Mod.
But these are not the only aesthetic qualities of the Maat. Voopoo has given this atomizer a perfect blend of lines and the whole thing is pleasant to look at. A lip-friendly 810 drip tip sits atop a 510 base. The Voopoo Maat has a tank with a capacity of 2 ml. However, thanks to a glass bulb (available here), it can reach 6.5 ml. These are therefore two large capacities that will allow the user to vape for a long time without having to worry about replenishing the e-liquid.
Filling is done from the top of the MAAT Tank and with ease. You just have to unscrew the top cap to access the filling hole and it should be noted that the seal is assured. As for the airflow, it is adjustable and is located on the base with an enlarged air inlet, which results in improved airflow and the creation of dense vapour. But it would be a mistake to talk about the Voopoo Maat without mentioning its volcano crater design. Indeed, this reduces the loss of airflow by 60% compared to other atomizers. A significant aspect.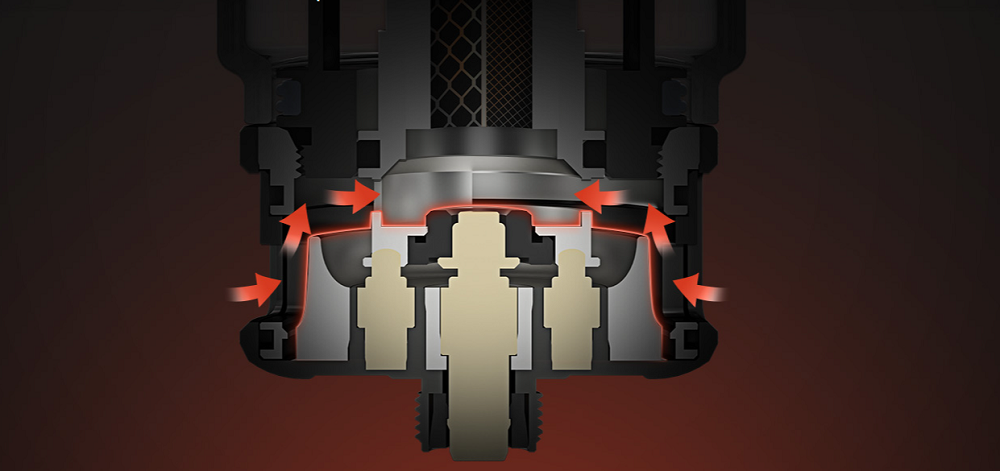 Finally, the MAAT Tank is compatible with Voopoo's TPP coils, namely :
The 0.15 ohm TPP-DM1 coil (60-80W)
The 0.2 ohm TPP-DM2 coil (40-60W)
The 0.15 ohm TPP-DM3 coil (80-100W)
The TPP-DM4 coil of 0.3 ohm (32-40W)
These coils allow a DL vape and temperature optimization while their longevity is improved. So there's plenty of room for the Voopoo Maat. Lovers of DL draw and dense steam will be seduced.
Contents :
1x Maat atomizer (2ml)
1x 0.2 ohm TPP-DM2 coil
1x 0.15 ohm TPP-DM3 coil
1x set of seals
1x user's manual
For more information on the Voopoo – Drag 2 Refresh Edition PnP Kit see: Www.Voopoo.Com
—————————————————————————————————————————————————————————
"Cuimsíonn an táirge seo nicitín, ar substaint an-andúile é. This product contains nicotine which is a highly addictive substance."
FOR YOUR OWN SAFETY AND SIMILARLY, OTHERS AROUND YOU. PLEASE READ THIS INFO PARTICULARLY CAREFULLY. FURTHERMORE, WHERE THE TERM E-LIQUID REFERS TO A NICOTINE CONTAINING FLUID AND TAKE ALL NECESSARY CARE. 
Above all, please treat our nicotine e-liquids with extreme care. In addition, ensure that you follow the below safety advice:
Firstly, keep e-liquid/cartridges locked up. Above all, keep out of reach of children and pets at all times.
Seek full medical attention immediately as a result of an accident. In addition, if you feel unwell, and show this warning to your doctor.
Likewise, in the event of swallowing this product, seek medical advice immediately.