Description
Efest LUSH Q4 Charger
The Efest Lush Q4 Charger is a high-quality battery charger designed specifically for use with rechargeable vape batteries. It can charge up to four batteries simultaneously and supports various battery types and sizes, including 18650, 20700, and 21700 batteries.
One of the critical features of the Efest Lush Q4 is its fast charging speed, which allows users to quickly and efficiently charge their batteries without waiting for extended periods. The charger also includes a range of safety features, such as overcharge protection, short circuit protection, and reverse polarity protection, which helps to ensure that the batteries are charged safely and efficiently.
The Efest Lush Q4 Charger has a compact and portable design, making it easy to take wherever you go. It also features a clear LED display that shows the current charging status of each battery, as well as an auto-stop function that stops the charging process once the batteries are fully charged. Overall, the Efest Lush Q4 is a reliable and efficient vape battery charger, ideal for vapers who need a fast and safe way to charge their batteries.
Efest Charging System
With independent battery slot monitors and three fast charging modes: 2.0A, 1.0A, and 0.5A, it also includes safety features such as Over-Discharge, Over-Voltage, Short Circuit and Reverse Polarity Protection. Efest Lush Q4 is compatible with any 3.6V/3.7V lithium batteries and has wider slots for 20700 and 21700 lithium batteries. Batteries are easy to insert and remove. The Lush Q4 charger features an Auto-Stop once batteries are fully charged. Lush Q4 has an AC 100-240V 50/60Hz input power and Auto Cut-Off Voltage 4.20. It is compatible with: 10400, 14500, 14650, 16340, 16500, 17650, 17670, 18350, 18490,18500, 18650, 20700, 22650, 26500 and 26650 vape batteries. (Batteries are not included.)
Certifications and Regulations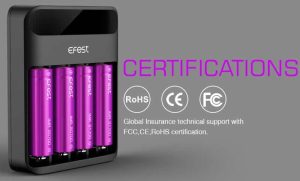 Important:

ⓘ Please be sure to inspect your battery before use to ensure it is not damaged, including tears/rips in the battery wrap.
ⓘ Discontinue use immediately if the battery is damaged.
ⓘ Never attach any metal part to the top or the bottom-negative battery contact.
ⓘ Never wholly discharge Li-ion battery.
ⓘ Always use good quality and original chargers.