Description
Vaporesso GTX Coils Ireland
Vaporesso GTX coils are designed for use with the Vaporesso Target PM80 Pod kit and GTX Go 80. There are three types of GTX coils you can choose from. 0.3 ohm (32-45W) mesh coil, which will provide you with dense clouds and insane flavour. The 0.8-ohm (12-18w) mesh coil and 1.2 ohms regular dual coil provides you with a tighter draw and, of course, fantastic and authentic taste as well.
Don't forget to prime your coil!Drip a few drops of your e-liquid directly on the cotton inside the new heating head and let it soak. This will ensure your coil does not burn out.
It's Compatible
The GTX coil platform gives more options covering for DTL, restricted DTL and MTL vaping preferences. There's always one for you.
Power and FlavorIntroducing the latest GTX coils with even more cloud and immense flavor production.

A Perfect Team UpBy interacting between the flax cotton and the non-woven fabric, the optimal flavor of your e-juice will be released smoothly without a deviation.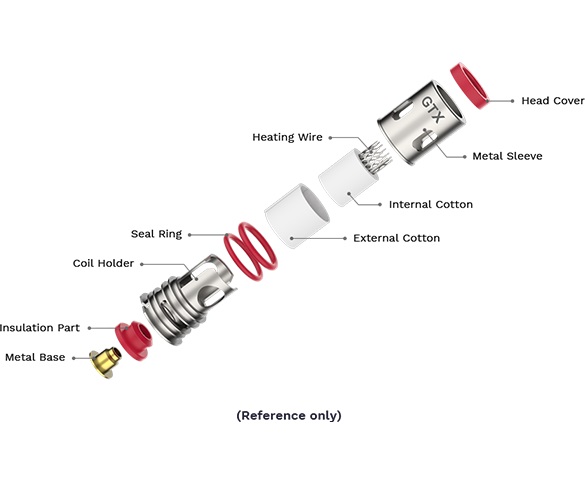 Resistance:
0.3Ω Mesh (32-45W)
0.6Ω Mesh (20-30W)
0.8Ω Mesh (12-20W)
This product is for advanced user only! Please have a great understanding and technical knowledge on how to use this product in order to properly use it. Use it at your own risk!
Note: There is always an inherent risk when using any rechargeable batteries at anytime and under any circumstances. ivape.ie  is not held responsible for any damage for any modification of the batteries, chargers, devices and other products that we carry in any form or shape, this is including pack making.
When working with Li-ion (Lithium-ion), LiPo (Lithium-ion Polymer) and any rechargeable cells, please be cautious and carefully use as they are very sensitive to charging characteristics and may explode or burn if mishandled. Please make sure that you have great knowledge on all rechargeable batteries before you use them. Always charge batteries at the clean and fire-proof surface. Never leave charging batteries unattended. If you see that there are visible damages on the batteries, please do not use. Always keep, store and transport the rechargeable cells in a safe, non-conductive container in controlled environment. 
Do not use any rechargeable battery as well as any battery charger if any visible damage is present, as well as if the cell or charger has been stressed through mishandling, accidental or otherwise, even if damage may not be visible. Always store and transport rechargeable cells in a safe, non-conductive container in a controlled environment. Please dispose battery cells, chargers or any other electronic devices in accordance of local laws and mandates.