Vaporesso Xros Mini Kit- 1000mAh
Vaporesso Xros Mini Kit
The Vaporesso Xros Mini kit is designed for easy, day-to-day vaping and is ideal for first-time vapers too. The 1000mAh battery is able to support up to a day's worth of vaping, even at its 16W max power. That means you're less likely to get caught out with no battery. As well as the device itself, in your kit, you'll also find a 2ml refillable Xros pod with a built-in MTL (Mouth To Lung) coil. You don't have to worry about messy coil changes, as the pod design means you can just replace the pod when needed.
Features:
MTL Pod Kit
Long-Lasting 1000mAh Battery
Inhale Activated
Fixed 11W / 16W Power Output
2ml Refillable Pods
Built-In Coils
With its single-button operation, the Xros Mini detects which pod you've chosen and sets the wattage to either 16W or 11W accordingly. It makes your kit simpler to use, as you don't have to figure out wattages or settings to vape. Whether the 1.2 Ohm or the 0.8 Ohm pod (sold separately), is being used, you'll experience the full flavour and a discreet amount of vapour production for an MTL inhale.
The 2ml Xros pod is easily topped up via the filling port located underneath the mouthpiece. If the 1.2 Ohm coil is installed, your kit will produce an inhale that's closer to the feel of a cigarette. However, if you prefer a little more vapour production, we'd suggest the 0.8 Ohm coil, which can be bought separately. Conveniently, there's a huge range of high PG and 50/50 e-liquids available, all of which are compatible with the Xros Mini.
Contains:
Vaporesso Xros Mini
1.2 Ohm Xros Pod
Type-C USB Cable
User Manual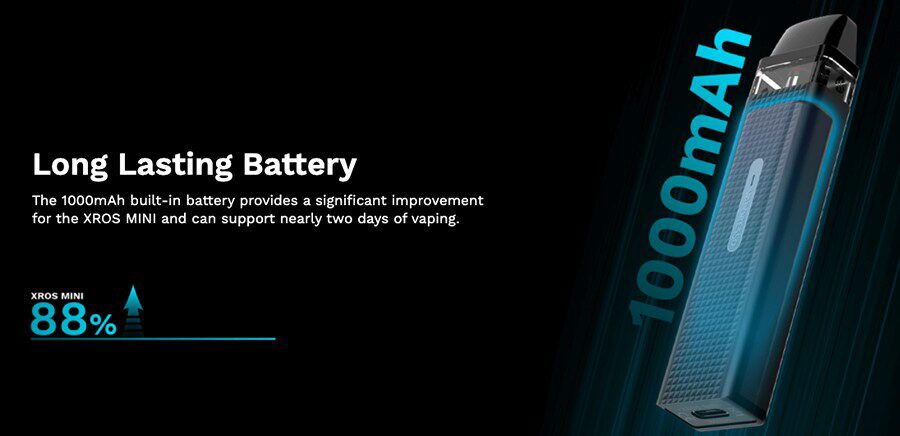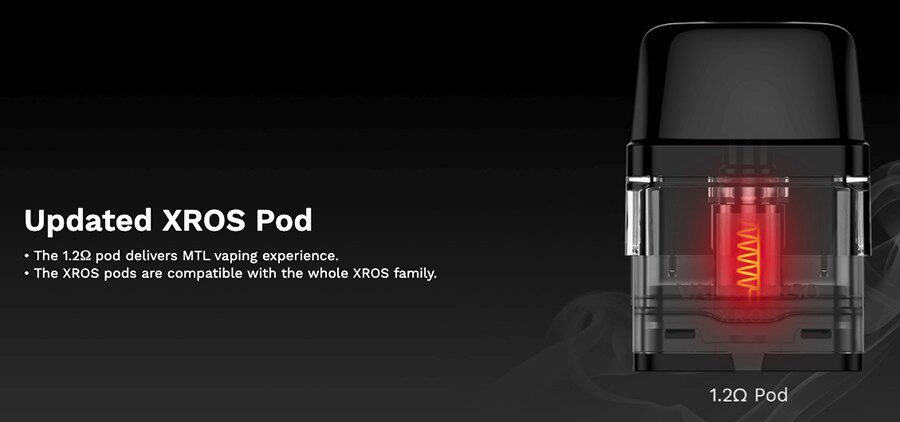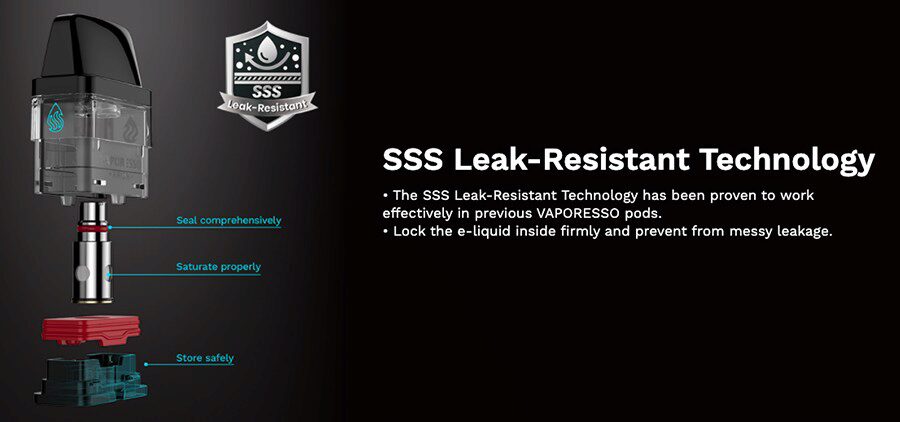 In order to use temperature control feature, it requires use of nickel, titanium, or stainless steel coils and must be built with non-resistant wire because issues can arise.
This product is for advanced user only for instance you need to have a great understanding and technical knowledge on how to use this product in order to properly use it. As a result you must use it at your own risk!
There is always an inherent risk when using any rechargeable batteries at anytime and under any circumstances as a result ivape.ie  is not held responsible for any damage for any modification of the batteries, chargers, devices and other products that we carry in any form or shape.
When working with Li-ion (Lithium-ion), LiPo (Lithium-ion Polymer) and any rechargeable cells, please be cautious and carefully use as they are very sensitive to charging characteristics and otherwise may explode or burn if mishandled. Please make sure that you have great knowledge on all rechargeable batteries before you use them. Always charge batteries at a clean and fire-proof surface, because this could cause fire, destruction to your home or being. N
ever leave charging batteries unattended.
If you see that there are visible damages on the batteries, please do not use because they are highly explosive in this condition.  Always keep, store and transport the rechargeable cells in a safe, non-conductive container in a controlled environment or damage can occur.
Do not use any rechargeable battery as well as any battery charger if any visible damage is present, as well as if the cell or charger has been stressed through mishandling, accidental or otherwise, even if damage may not be visible. Always store and transport rechargeable cells in a safe, non-conductive container in a controlled environment. Please dispose battery cells, chargers or any other electronic devices in accordance of local laws and mandates. Always use an external charger to preserve the longevity and safety of your batteries, most suppliers don't provide warranty for charging batteries inside your mod. https://www.vaporesso.com/vape-kits/zero