Description
Geekvape Zeus SE Tank Ireland
Geekvape Zeus SE Tank
iVape introduces The Geekvape Zeus SE Tank. Zeus was the God of all Gods, the top Don and we think this tank is worthy of its name. The Zeus SE Tank is the Sub Ohm version of the Rebuildable RTA The Zeus X and is recommended for advanced users. Obviously, this is the same as its predecessor but with some additions. The "SE" suffix means this is a Special Edition with a child safety locking top cap and upgraded Z coils. The top cap has a locking button and spins to allow access to the top fill port. In standard form this will hold up to 5.5ml of your own e-liquid. For TPD regulated areas this capacity sadly is dropped to 2ml. This is compatible with the "Z Coil" range from Geekvape and you get the 0.15ohm and 0.4ohm coils included in the kit. The updated Z coils included promise a longer lifespan, Geekvape say up to 50% longer than the original versions.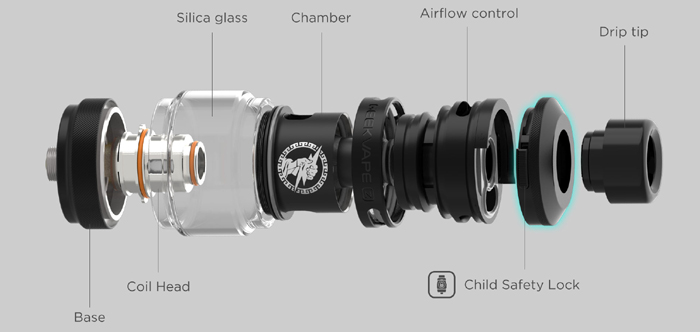 It comes equipped with a 22mm diameter and a 2ml e-liquid capacity (3.5ml glass included), this innovative sub-ohm tank features top dual adjustable airflow and a quick change prebuilt coil system. A 510 connection allows this vape tank to be paired with the majority of vape mods. The Geek Vape Zeus Tank is designed to achieve maximum vapour production while providing outstanding flavour in a leak-resistant way.

With a clean-cut yet resilient construction and a prebuilt coil system that allows for a hassle-free replacement of coils it really makes the Zeus Tank a king among tanks. Refilling is easy simply remove the mouthpiece and fill one of the two large-sized juice ports with e-liquid. The sleek adjustable top airflow provides greater control over inhaling. The Zeus mesh Z coil series brings two different variants for various wattage modes; a Z1 0.4 Ohm and a Z2 0.2 Ohm variant (pre-installed ) included, this tank is best suited to pair with high VG e-liquids of 60% and above.

GeekVape Zeus Tank Parameters:
Size: 26 x 42.5mm (Not including Drip tip)
Capacity: 5ml(Spare glass tube 3.5ml)/2ml
Drip tip type: 810 Drip Tip
Filling Method: Top Fill
Mesh Z1 coil 0.4ohm (60-70W)
Mesh Z2 coil 0.15ohm (70-80W)(pre-installed)
Kit Includes
Geekvape Z Sub-Ohm SE tank
Coil tool
Spare parts pack
Spare glass
0.15ohm Z coil
0.4ohm Z coil
User Manual