Smok TFV16 Tank
So what's new about the Smok TFV16 Tank you ask? Well first off it's Smok's new Mesh tank that promises to be big on size and flavour. With this tank you get a 28mm diameter, push to open top fill system, that uses the TFV16 mesh coils.  The TFV16  can accommodate up to 9ml of E-Liquid when used with the bubble glass. The TFV16 can easily be filled by pushing a button om the top of the tank which exposes a large single fill hole. This hole measures in at a  12mm by 4mm that's plenty of room for larger bottles. The TFV16 tank comes with a pre-installed 0.17 ohm Single Mesh coil head that is best at 120W and included in the package is a spare Dual Mesh 0.12 ohm coil, rated at 80 to 160W. With the integration of mesh coils, coil life expectancy and flavor will be noticeably better compared to that of regular coils. The TFV16 tank has dual adjustable bottom air slots that measure in at 14mm by 3mm and a 13mm wide bore resin drip tip which allows vapers to enjoy large amounts of vapor with ample flavor. With its unique construction and the use of mesh coils, along with a wide variety of colours the SMOK TFV16 Tank is sure to satisfy.
Smok TFV16 Tank Ireland
Product Specifications
28mm Diameter Base
Stainless Steel Construction
Push to Open Top Fill System
9ml Max Capacity Large Bubble Glass Tank Section
SMOK TFV16 Mesh Coil Series

TFV16 Mesh

0.17 ohm Coil
Single Mesh Coil
Best at 120W

TFV16 Dual Mesh

0.12 ohm Coil
Dual Mesh Coils
80 to 160W

Dual Adjustable Bottom Airflow Control
13mm Wide Bore Drip Tip
Gold Plated 510 Connection
Product Includes
One TFV16 Tank
One TFV16 Mesh 0.17 Coil (Pre-Installed)
One TFV16 Dual Mesh 0.12 Coil
One Glass Protector
One Spare Glass
One User Manual
Spare Parts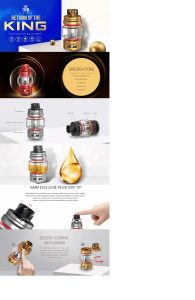 This product is for advanced user only! Please have a great understanding and technical knowledge on how to use this product in order to properly use it. Use it at your own risk!
In order to use temperature control feature, it requires use of nickel, titanium, or stainless steel coils and must be built with non-resistant wire. 
Note: When it comes to using RDA, RTA, and RDTA, we strongly recommended to wash and clean all the atomizers thoroughly and carefully. Likewise, please have a great sense of knowledge when it comes to handling and using these products.
We always strongly recommend testing the coils with ohm-meter before using them with your mods, devices and batteries. Coils with low resistance are not suitable with all mods, devices and batteries. Please make sure that your mods, devices and batteries can handle low resistance before using them.
Note: There is always an inherent risk when using any rechargeable batteries at any time and under any circumstances. ivape.ie  is not held responsible for any damage for any modification of the batteries, chargers, devices and other products that we carry in any form or shape, this is including pack making.
When working with Li-ion (Lithium-ion), LiPo (Lithium-ion Polymer) and any rechargeable cells, please be cautious and carefully use as they are very sensitive to charging characteristics and may explode or burn if mishandled. Please make sure that you have great knowledge on all rechargeable batteries before you use them. Always charge batteries at the clean and fire-proof surface. Never leave charging batteries unattended. If you see that there are visible damages on the batteries, please do not use. Always keep, store and transport the rechargeable cells in a safe, non-conductive container in a controlled environment
Do not use any rechargeable battery as well as any battery charger if any visible damage is present, as well as if the cell or charger has been stressed through mishandling, accidental or otherwise, even if damage may not be visible. Always store and transport rechargeable cells in a safe, non-conductive container in a controlled environment. Please dispose of battery cells, chargers or any other electronic devices in accordance of local laws and mandates. Always use an external charger to preserve the longevity and safety of your batteries, most suppliers don't provide warranty for charging batteries inside your mod.