Wotofo Profile Unity RTA
Wotofo Profile Unity RTA
iVape welcome in the Wotofo Profile Unity RTA. Wotofo has collaborated with Mr.JustRight1 and the Vapor Chronicles to bring you the Wotofo Profile Unity RTA. Well I'm sure your aware of how popular the Wotofo Profile RDA has been, well so many contact Wotofo and asked for a tank version, so you have it. This new Profile Unity RTA. So what is the difference you ask. Well firstly, they introduce the tongue and groove top cap which is to dramatically decrease any chance of leakage. Secondly, a large e-liquid capacity being either 3.5ml or 5ml. Thirdly is the deck-chamber linkage system where the deck follows the chamber which ensures steady incoming air and coil-focused air supply. Along with this it also has a new e-liquid flow experience, which has a non stop flow and rapid e-liquid feeding with bi-level juice feeding ports, and ingenious design. And Finally, with the optimized Profile RDA build deck, ease of wicking, ease of building, along with locked in superb flavour powered by the NexMESH OFRF, the triple density mesh coil.  All in all this is truly going to satisfy all the RTA lovers, delivering flavour, ease of use and a truly wonderful vape!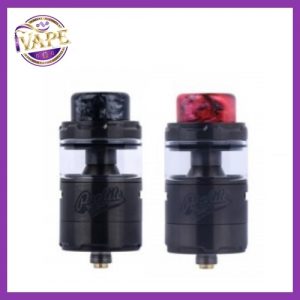 Do you need Cotton?
Specifications:
Diameter: 25mm
Overall Height: 48.5mm
Threading: 510 thread
E-liquid Capacity: 3.5ml
Filling Method: Top filling
Coil Type: Mesh coil
Airflow Type: Adjustable side airflow
Insulator Material: German PEEK
Mesh Coil Specs (OFRF nexMESH):
Material: Kanthal A1
Size: 16*6.8mm (compatible with Profile RDA)
Resistance: 0.13ohm
Recommended Wattage: 60-70W
What's in the package:
1pc Profile Unity RTA
1pc User Manual
1pc Bending Tool
1pc Screw Driver
1bag nexMesh Coil (0.13 ohm)*2
1bag 6mm Agleted Cotton*1
1bag Extra Orings & Screws, Springs
Agleted Organic Cotton
100% Organic
Diameter: 6mm (compatible with Profile RDA)
This product is for advanced user only! Please have a great understanding and technical knowledge on how to use this product in order to properly use it. Use it at your own risk!
In order to use temperature control feature, it requires use of nickel, titanium, or stainless steel coils and must be built with non-resistant wire. 
Note: When it comes to using RDA, RTA, and RDTA, we strongly recommended to wash and clean all the atomizers thoroughly and carefully. Likewise, please have a great sense of knowledge when it comes to handling and using these products.
We always strongly recommend testing the coils with ohm-meter before using them with your mods, devices and batteries. Coils with low resistance are not suitable with all mods, devices and batteries. Please make sure that your mods, devices and batteries can handle low resistance before using them.
Note: There is always an inherent risk when using any rechargeable batteries at anytime and under any circumstances. ivape.ie  is not held responsible for any damage for any modification of the batteries, chargers, devices and other products that we carry in any form or shape, this is including pack making.
When working with Li-ion (Lithium-ion), LiPo (Lithium-ion Polymer) and any rechargeable cells, please be cautious and carefully use as they are very sensitive to charging characteristics and may explode or burn if mishandled. Please make sure that you have great knowledge on all rechargeable batteries before you use them. Always charge batteries at the clean and fire-proof surface. Never leave charging batteries unattended. If you see that there are visible damages on the batteries, please do not use. Always keep, store and transport the rechargeable cells in a safe, non-conductive container in controlled environment
Do not use any rechargeable battery as well as any battery charger if any visible damage is present, as well as if the cell or charger has been stressed through mishandling, accidental or otherwise, even if damage may not be visible. Always store and transport rechargeable cells in a safe, non-conductive container in a controlled environment. Please dispose battery cells, chargers or any other electronic devices in accordance of local laws and mandates. Always use an external charger to preserve the longevity and safety of your batteries, most suppliers dont provide warranty for charging batteries inside your mod. https://www.wotofo.com/pages/profile-unity-rta