The Vaporesso GEN S Mod-220W
iVape are delighted to welcome The Vaporesso GEN S Mod. This well-designed high power vaping system utilizes the new advanced AXON Chipset, a comprehensive temperature control suite, and is finished in a soft-touch rubberized coating to prevent unfortunate drops and falls. The Vaporesso GEN S Mod is able to fire at wattages between 5-220W and with the advanced AXON chipset you are guaranteed to get a responsive vape with the innovative Pulse Mode, firing the installed coil every 0.2s! The Vaporesso GEN Mod is visually striking and is finished in a soft-touch rubberized coating to prevent any fall damage and to ensure a tactile and ergonomic hold.  We give The GEN S Mod a solid thumbs up!
**Stainless Silver & Blue is Gen Mod. Rest are Gen S**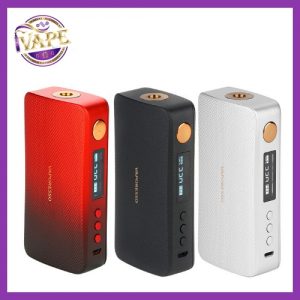 Features:
Dual High-Amp 18650 Batteries (Not Included)
Wattage Output Range: 5-220W
Resistance Range: 0.03-5.0ohms
Zinc-Alloy Chassis Construction
Soft Touch Rubberized Coating
Nickel, Titanium, and Stainless Steel Wire Compatibility
Power Mode
Power ECO Mode
TC Mode Pulse Mode
Intuitive Firing Button
OLED Display Screen
Two Adjustment Buttons
Magnetic Battery Door
Short Circuit Protection
Burn Protection
No Load Protection
Overtime Protection
Low Resistance Protection
Low Power Protection
Overcharge Protection
ESD Circuit Protection
Pass Through Protection
MicroUSB Port
The Vaporesso GEN Mod comes with
1 x GEN MOD
1 x User guide and Warranty card
1 x Micro-USB cable
In order to use temperature control feature, it requires use of nickel, titanium, or stainless steel coils and must be built with non-resistant wire. 
This product is for advanced user only! Please have a great understanding and technical knowledge on how to use this product in order to properly use it. Use it at your own risk!
Note: There is always an inherent risk when using any rechargeable batteries at anytime and under any circumstances. ivape.ie  is not held responsible for any damage for any modification of the batteries, chargers, devices and other products that we carry in any form or shape, this is including pack making.
When working with Li-ion (Lithium-ion), LiPo (Lithium-ion Polymer) and any rechargeable cells, please be cautious and carefully use as they are very sensitive to charging characteristics and may explode or burn if mishandled. Please make sure that you have great knowledge on all rechargeable batteries before you use them. Always charge batteries at the clean and fire-proof surface. Never leave charging batteries unattended. If you see that there are visible damages on the batteries, please do not use. Always keep, store and transport the rechargeable cells in a safe, non-conductive container in controlled environment
Do not use any rechargeable battery as well as any battery charger if any visible damage is present, as well as if the cell or charger has been stressed through mishandling, accidental or otherwise, even if damage may not be visible. Always store and transport rechargeable cells in a safe, non-conductive container in a controlled environment. Please dispose battery cells, chargers or any other electronic devices in accordance of local laws and mandates.