Description
Elf Bar T600 Disposable 10 Pack
Elf Bar T600 Disposable
With its sleek and compact design and appearance, the Elf Bar T600 Disposable Vape Device has a range of delightful fruit-inspired flavours to ensure both long-lasting and memorable vaping experiences on the go or at home.
Its built-in 500mAh battery provides stable and continuous output for reliable flavour and vapour production that will last up to 600 puffs. Each flavour has a concentrated ratio of 50% VG (Vegetable Glycerine) and 50% PG (Propylene Glycol) for high-quality food flavourings and salt nicotine. This makes the Elf Bar T600 ideal for MTL (Mouth to Lung) vaping due to it's pocket-sized design whilst emulating the feel of a cigarette backed with smoother airflow.
Specifications:
– Capacity: 2ml
– 20mg (2%) Nicotine Strength
– Battery: 500mAh (Built-In)
– Up To 600 Puffs
– 50%PG/50%VG
– Sleek & Compact Appearance
– Unique Filter Tip Design
– High Quality Organic Cotton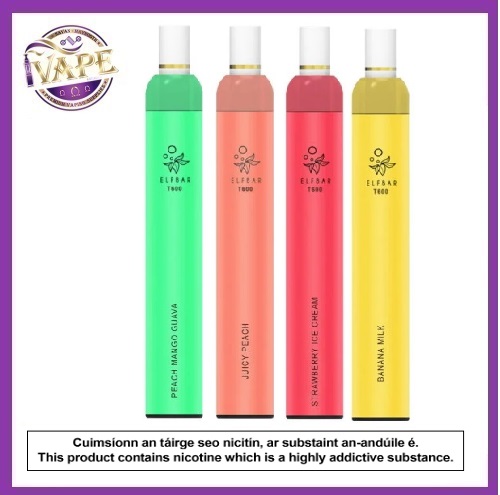 Open the outer cardboard box and remove the contents
Tear the foil packaging and remove the disposable device
Remove and discard of the silicon plug
Activate the vape by drawing on the end of the pod – an LED light will glow on the bottom of the e-cig
The LED light will flash when depleted – at this point, safely dispose of the device
SPECIFICATIONS
550mAh battery
2ml e-liquid capacity
600 puffs
Draw activated
FOR YOUR OWN SAFETY AND SIMILARLY, OTHERS AROUND YOU. PLEASE READ THIS INFO PARTICULARLY CAREFULLY. FURTHERMORE, WHERE THE TERM E-LIQUID REFERS TO A NICOTINE-CONTAINING FLUID AND TAKE ALL NECESSARY CARE. 
Above all, please treat our nicotine e-liquids with extreme care. In addition, ensure that you follow the below safety advice:
Firstly, keep e-liquid/cartridges locked up. Above all, keep out of reach of children and pets at all times.
Seek full medical attention immediately as a result of an accident. In addition, if you feel unwell, and show this warning to your doctor.
Likewise, in the event of swallowing this product, seek medical advice immediately.
Please dispose of these at your local WEE center or areas that accept battery recycling.

want to know more about Elf Bar T600 – Disposable Pod 20mg see Elfbarvape.com

Want to know more about WEE.IE

Where can I recycle?

Do you have electrical, battery or lighting waste? Recycle it FREE through our authorised collection points.

Use the interactive map to find your nearest local recycling centre, Public Collection Day, Electrical Retailer and Bulb Exchange Store. Waste portable batteries can be recycled at your local newsagent.

We are sorry, but we do not accept the exchange/return of liquids after purchase. Health and safety reasons. Please make sure that you picked proper flavour and proper nicotine level.Cuimsíonn an táirge seo nicitín, ar substaint an-andúile é. This product contains nicotine which is a highly addictive substance. Harmful in contact with skin. If medical advice is needed, have product container or label at hand. KEEP OUT OF REACH OF CHILDREN. Read the label before use. IF ON SKIN: Wash with plenty of water and soap. Call a POISON CENTER, doctor, or physician, if you feel unwell. Dispose of contents/containers in accordance with regional regulations. If medical advice is needed, have a product container or label at hand. This product is not recommended for use by non-smokers. Product for use with e-cigarettes only. Store in a cool & dry place in the original package. Women who are pregnant or breastfeeding should seek medical advice.
Available Flavours:
Kiwi Passion fruit guava
Pineapple Peach Mango
peach mango guava
Mango Peach watermelon
Blue Razz lemonade