Nitecore Q4 Quick Charger 2A
Nitecore Q4 Quick Charger
Nitecore Q4 Quick Charger is compatible with almost all types of rechargeable batteries. The charger utilizes four bays to independently charge different batteries simultaneously.  The Nitecore Q4 Quick Charger offers new innovations to the battery world. The charger utilizes four slots to independently charge different batteries simultaneously. The Nitecore Q4 Quick Charger can provide a charging current of up to 1000mA in just a single slot! With this type of current, charging takes less time than ever before. Constructed from fire resistant PC materials, the Q4 can be used to its fullest without overheating.
*Comes with EU plug*
Parameters
Dimensions: 125.4 x 95.60 x 36.2mm
Input: DC 12V 2000mA 24W
Output: 4.2V±1% 1A*4, 2A*2
Color:  Lemonade (clear)
Compatible with:
Li-ion / IMR: 10340, 10350, 10440, 10500, 12340, 12500, 12650, 13450, 13500, 13650, 14350, 14430, 14500, 14650, 16500, 16340 (RCR123), 16650, 17350, 17500, 17650, 17670, 17700, 18350, 18490, 18500, 18650, 18700, 20700, 21700, 22500, 22650, 22700, 25500, 26500, 26650, 26700
Capable of charging 4 Li-ion batteries simultaneously
Monitors and charges each of the 4 slots independently
Features two charging modes (constant current and constant voltage)
Automatically detects power level of batteries and selects the appropriate voltage and charging mode
Automatically stops upon charging completion
Overcharging protection
Reverse polarity prevention and short circuit prevention
Designed for optimal heat dissipation
Made from durable PC material
Insured worldwide by Ping An Insurance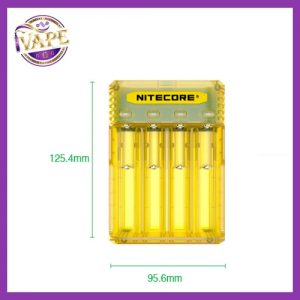 This product is for advanced user only! Please have a great understanding and technical knowledge on how to use this product in order to properly use it. Use it at your own risk!
In order to use temperature control feature, it requires use of nickel, titanium, or stainless steel coils and must be built with non-resistant wire. 
Note: When it comes to using RDA, RTA, and RDTA, we strongly recommended to wash and clean all the atomizers thoroughly and carefully. Likewise, please have a great sense of knowledge when it comes to handling and using these products.
We always strongly recommend testing the coils with ohm-meter before using them with your mods, devices and batteries. Coils with low resistance are not suitable with all mods, devices and batteries. Please make sure that your mods, devices and batteries can handle low resistance before using them.
Note: There is always an inherent risk when using any rechargeable batteries at any time and under any circumstances. ivape.ie  is not held responsible for any damage for any modification of the batteries, chargers, devices and other products that we carry in any form or shape, this is including pack making.
When working with Li-ion (Lithium-ion), LiPo (Lithium-ion Polymer) and any rechargeable cells, please be cautious and carefully use as they are very sensitive to charging characteristics and may explode or burn if mishandled. Please make sure that you have great knowledge on all rechargeable batteries before you use them. Always charge batteries at the clean and fire-proof surface. Never leave charging batteries unattended. If you see that there are visible damages on the batteries, please do not use. Always keep, store and transport the rechargeable cells in a safe, non-conductive container in a controlled environment
Do not use any rechargeable battery as well as any battery charger if any visible damage is present, as well as if the cell or charger has been stressed through mishandling, accidental or otherwise, even if damage may not be visible. Always store and transport rechargeable cells in a safe, non-conductive container in a controlled environment. Please dispose of battery cells, chargers or any other electronic devices in accordance of local laws and mandates. Always use an external charger to preserve the longevity and safety of your batteries, most suppliers don't provide warranty for charging batteries inside your mod.